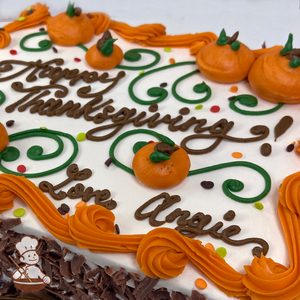 Product Description
From autumn birthdays to family and office gatherings, it's time to give thanks and eat cake!
Our decorators will use their best judgement to adjust and resize details that best accommodates the cake size you ordered.
CAKE SIZE SHOWN: ⅛ Sheet. Final design will vary depending on your cake size ordered.
SIZES AVAILABLE: All Sizes.
FLAVORS AVAILABLE: All Flavors.
DESIGN NOTES: Chocolate shavings shown on cake wall is part of cake flavor choice and NOT part of the cake design.
Product Details
Cake Servings: ⅛ Sheet 6-8 | ¼ 15-20 | ½ 30-40 | Full 60-80
Cake Size: ⅛ Sheet 6 x 8" | ¼ 8 x 12" | ½ 12 x 16" | Full 16 x 24"
Turnaround Time: Please order a day ahead by 4pm.
Ingredients: See details...
Best beautiful graduation Cake and Birthday.
Ready on time,- easy ordering,- great results
I got a beautifully decorated cake and it tasted delicious. Customer service was helpful and efficient.
Went and ordered a cake for my husbands birthday . He loves the dream cake the lady there suggested we try with with chocolate mousse. It was definitely a hit . Loved it super delicious
Their cakes are awesome!!! I've ordered the carrot cake and the strawberry cake. They were ready on time and delicious!