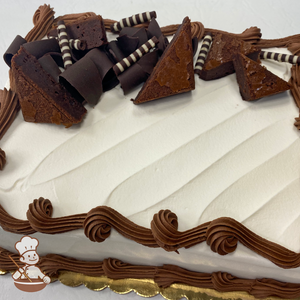 Product Description
Perfect cake and dessert for any dinner party or birthday.
a.k.a Monterey Cake and for the Total Chocolate Fan! Classic Chocolate Cake filled with Belgian Chocolate Ganache and Chocolate Mousse Cream. This Buttercream iced cake is best served at room temperature and can sit in room temperature for the day; refrigerate if overnight.
Decoration is as shown. Add a custom message for any occasion. If you're looking for other specific cake designs with this flavor, please shop by themes or special occasions.
CAKE SIZE SHOWN: 1/8 sheet. Final design will vary depending on your cake size ordered.
SIZES AVAILABLE: All sizes.
Product Details
Cake Servings: ⅛ Sheet 6-8 | ¼ 15-20 | ½ 30-40 | Full 60-80
Cake Size: ⅛ Sheet 6 x 8" | ¼ 8 x 12" | ½ 12 x 16" | Full 16 x 24"
Turnaround Time: Please order a day ahead by 4pm.
Ingredients: See details...
Best beautiful graduation Cake and Birthday.
Ready on time,- easy ordering,- great results
I got a beautifully decorated cake and it tasted delicious. Customer service was helpful and efficient.
Went and ordered a cake for my husbands birthday . He loves the dream cake the lady there suggested we try with with chocolate mousse. It was definitely a hit . Loved it super delicious
Their cakes are awesome!!! I've ordered the carrot cake and the strawberry cake. They were ready on time and delicious!