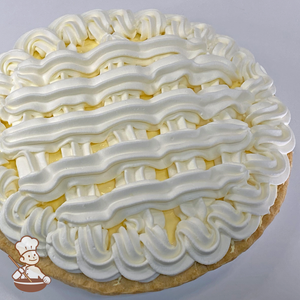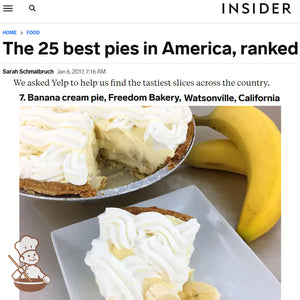 Product Description
Ranked a Top 10 Pie in America by Yelp and Insider.com, our delicious banana cream pie is made in a perfect pie crust with our famous Bavarian cream, fresh bananas, and whipped cream.
For a birthday cake alternative or simply for dessert, you'll love our cream pies!
All pies are decorated as shown.
Product Details
Pie Size: 9"
Pie Servings: 6-8
Turnaround Time: Please order a day ahead by 4pm.
Ingredients: See details...
Try the Strawberry Pie (in season of course). You do have to call in the order at least 3 hours before, so I suggest calling in the morning or just with plenty of notice. It is so worth it!
I've been doing business here for a long time and there's one thing that I always come back for: the banana cream pie. As one poster said, the cakes are only so-so. I think that the quality is better than that of grocery store pre-made cakes because they are fresh, but on the whole the cakes aren't extraordinary. The photo cakes are really cool, though, but the taste is the same as a regular cake. I'm just not a cake fan in general. However, the banana cream pie is AMAZING. You must try it!!!! The the whipped cream is so light, the banana cream is super rich and, well, creamy, and the crust is golden, flaky and delicious!!!! Try the banana cream pie, you'll no longer be ordering cakes for your special events!!!