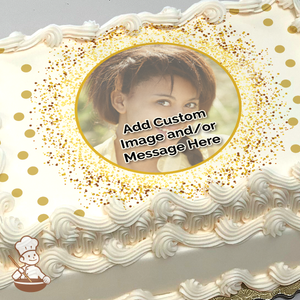 Product Description
Dazzling for birthdays and every occasion.
Add a custom image (or just message) to the design for the perfect touch! Our photo cakes are decorated using an additional 1-inch layer that is added to the top of the cake. This extra touch gives an added dimension to the decoration. Your image is printed directly onto this layer. Click on additional product views to see how the decorated layer looks on different size sheet cakes.
Upload highest resolution possible – no screen shots and no photos of a photo. Decorators will use their best judgement to crop and create a look that best shows off your image. Design may vary. Let us know in Order Notes if you have any specific requests and we will try our best to accommodate.
Product Details
Cake Servings: ⅛ Sheet 6-8 | ¼ 15-20 | ½ 30-40 | Full 60-80
Cake Size: ⅛ Sheet 6 x 8" | ¼ 8 x 12" | ½ 12 x 16" | Full 16 x 24"
Turnaround Time: Please order a day ahead by 4pm.
Ingredients: See details...
Best beautiful graduation Cake and Birthday.
Ready on time,- easy ordering,- great results
I got a beautifully decorated cake and it tasted delicious. Customer service was helpful and efficient.
Went and ordered a cake for my husbands birthday . He loves the dream cake the lady there suggested we try with with chocolate mousse. It was definitely a hit . Loved it super delicious
Their cakes are awesome!!! I've ordered the carrot cake and the strawberry cake. They were ready on time and delicious!