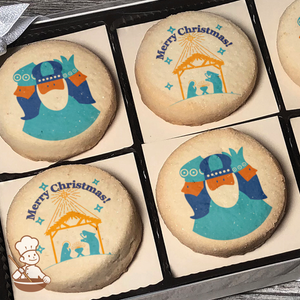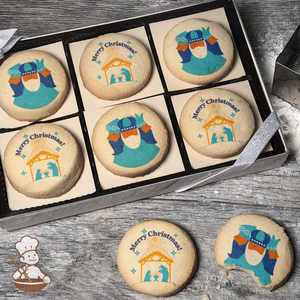 Product Description
Celebrate Christmas or the holidays with the Three Wise Men and Baby Jesus.
Created for those looking for the perfect design without any hassle, these delicious cookies make gifting easy! Our delicious Cookie Emblems® are as great tasting as they look - butter shortbread cookies baked to perfection. The uniced cookies give a natural and soft presentation to the design.
Custom message card available for additional charge.
No changes allowed to design shown. Band color may vary to match the design.
Product Details
Cookie Dimensions: 2.5" Round.
Gift Box Dimensions: 6 x 9.5 x 1" for 12 cookie box.
Packaging: Individually cello wrapped for freshness and inserted in gift box.
Shelf Life: 10 weeks Oct-Mar, 6 weeks Apr-Sept
Turnaround Time: 2 to 4 days (see check out calendar for details).
Ingredients: See details...
Carousel cookies
These are horrible. No taste whatsoever. I bought them for a party and noone liked them.
Received my Rachel & Peter cookies. As always they were packed beautifully and the cookies will be the perfect surprise for the bride and groom. Thank you for your professional and artistic service!
They look awesome. Thank you so much!
Lisa :sunflower:
They are delicious.....
They look wonderful! Our property manager couldn't contain herself and ate one. She said they are delicious too!
Thanks very much.
The cookies were a success!! Everyone loved them.