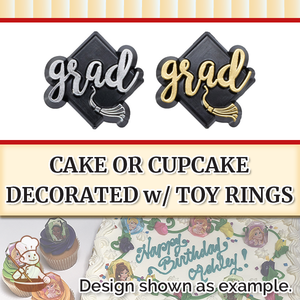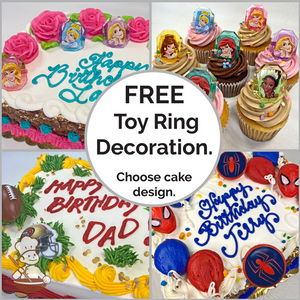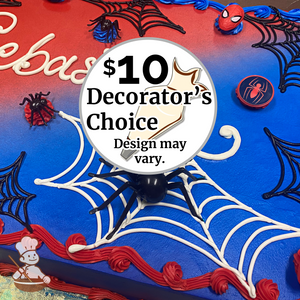 Product Description
A classic touch for that graduation celebration!
Whether to match your party or for a celebrant with a favorite theme, these toy rings give the perfect impact on your cake decoration. A great economical choice for a themed decoration and available in sheet cakes or on cupcakes.
Colors in light or medium shades are recommended as darker shades tend to stain. Design may vary. Let us know in Order Notes if you have any specific requests and we will try our best to accommodate.
Product Details
All cupcakes come with one ring per cupcake. Quantity on sheet cakes will vary on design. Please order a day ahead by 4pm.
SHEET CAKES
Servings: ⅛ Sheet 6-8 | ¼ 15-20 | ½ 30-40 | Full 60-80
Size: ⅛ Sheet 6 x 8" | ¼ 8 x 12" | ½ 12 x 16" | Full 16 x 24"
CUPCAKE PACKS
Available in packs of 12, 18 or 24.
Ingredients: See details...
Best beautiful graduation Cake and Birthday.
Ready on time,- easy ordering,- great results
I got a beautifully decorated cake and it tasted delicious. Customer service was helpful and efficient.
Went and ordered a cake for my husbands birthday . He loves the dream cake the lady there suggested we try with with chocolate mousse. It was definitely a hit . Loved it super delicious
Their cakes are awesome!!! I've ordered the carrot cake and the strawberry cake. They were ready on time and delicious!